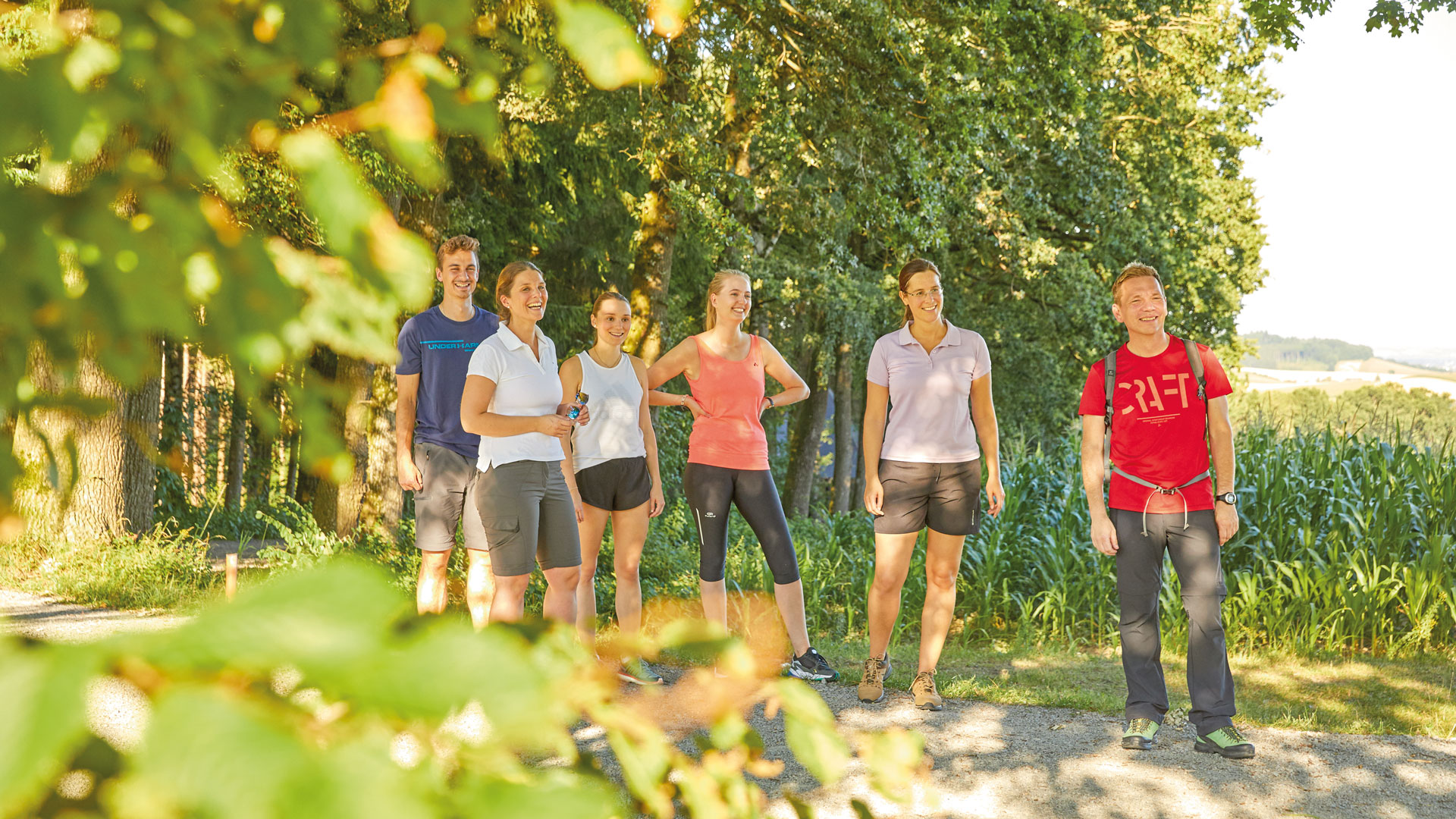 Bad Griesbach has a good offer for all hikers: 150 km hiking route around Bad Griesbach, Karpfham, Weng Cathedral and St. Reutern that leads through the picturesque landscape of the Rott Valley. There are countless hiking suggestions, guided in part. Some of the trails are devoted to specific topics, such as:
the nature trail – with lots of information about the nature Rottal
the Landwirtschaftweg – Facts and information about local farming and animal husbandry
the Emmausweg – is a section of the pilgrimage routes "Via Nova" and "Camino de Santiago"
Wandernadel of Bad Griesbach
The Walk around Bad Griesbach is often rewarded. You can earn up to 64 points on eight different marked routes. It takes 18 points to get the bronze Wandernadel (hiking award). You will receive the stamp cards with directions at the spa.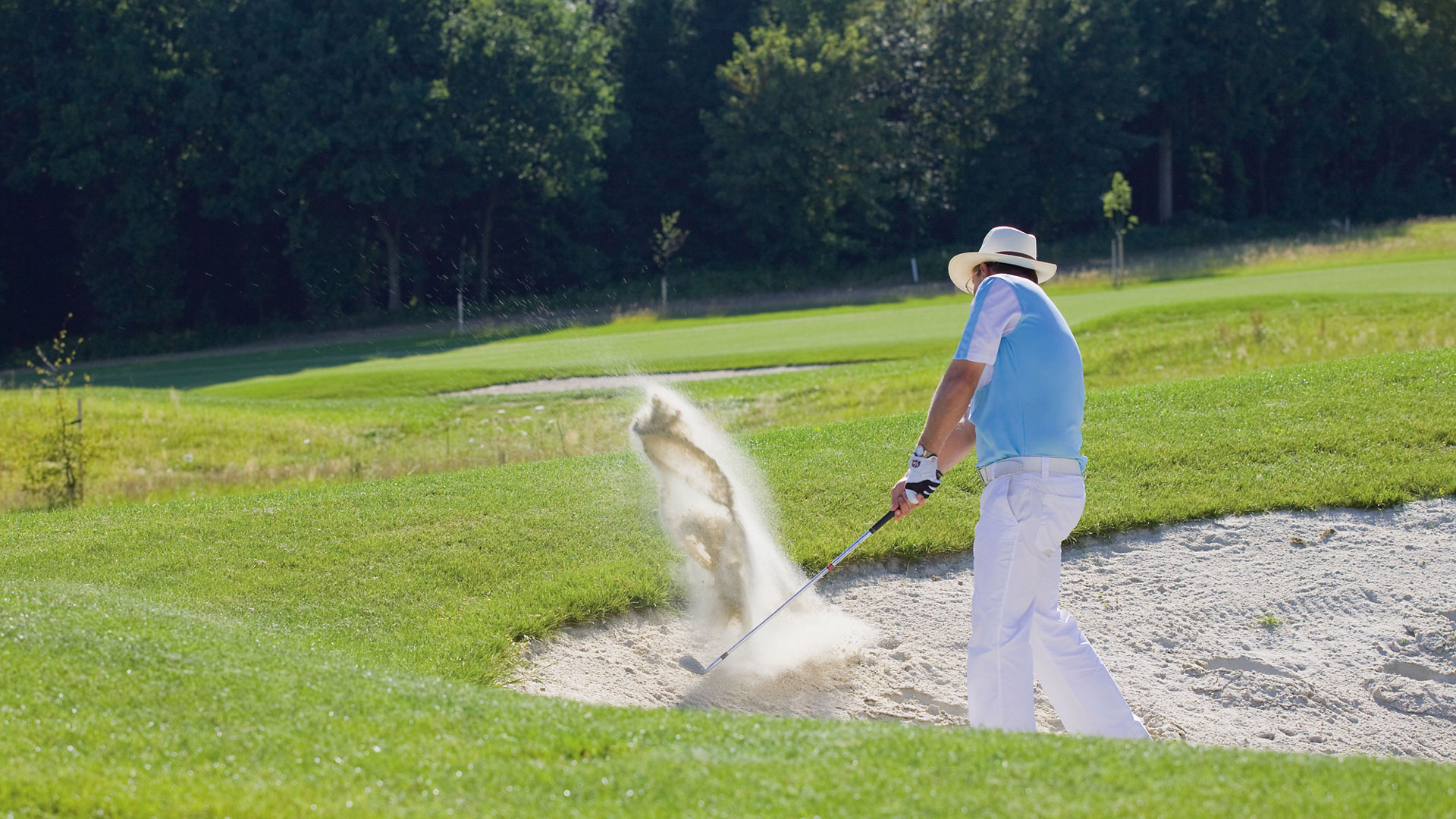 Golf
We offer our guests cheaper prices for green fee with discount from 25 up to 30% on all golf courses of the Donau-Inn Golfregion.
In Bad Griesbach you can find although the largest golf resort in Europe, the largest golf school in the world with 36 pros in one place and a huge selection of golf tournaments – more than 160 are offered during the year.
This offers you extreme golfing:
Six 18 – hole championship courses
three 9 – hole courses
two 6 – hole golf courses
Golfodrome ®
Come to Bad Griesbach and look forward to a varied golf experience at numerous places:
Golfplatz Lederbach
St Wolfgang Golfplatz Uttlau
Allianz Golfplatz Brunnwies
Golfplatz Sagmühle
Beckenbauer Golf Course
Porsche Golf Course
Nordic Walking
For the trend sport Nordic Walking Bad Griesbach offers – as in golf – superlative options. You will find here the largest contiguous Nordic walking route network in Germany with 17 different routes at a total of 150 km.
The trails offer all levels of difficulty, forest soil, gravel, dirt, grass. The longest marked route is the marathon distance at 42 km. Every year in September is the Rott Valley Nordic Walking Marathon being held.
Fitness
In Bad Griesbach you will find in the Kurwald and the Kurpark a modern fitness trail, a barefoot trail and a Finnenweg.
The Fitness Course
Here you have, similar to a keep fit path, five training platforms, all of which are equipped with various devices to train the whole body. The goal is simply to have fun and joy of movement.
The Barefoot path

Relaxation for body, mind and feet! Walk barefoot and on fresh air over different crafted grounds, collect marvelous impressions and feelings. Walk on sand, gravel, lime stone soils, granite pavement, wood and many more.
The Finnenweg
This is a medical training path which provides joint-friendly walking, for example over gravel, fabric and wood chips. This awareness walk is very recommended after surgery to strengthen your movement patterns.